Good Food Writing—What Is It?
March 24, 2012
My Reconciliation with Gefilte Fish
April 8, 2012
Regular readers of this blog know that I love Korean food. While there are several restaurants in Manhattan's Koreatown that I consider my favorites (depending on whether I'm in the mood for bibimbap, BBQ, or tofu), Brooklyn is the place I head to when I want the BEST Korean food in NYC, bar none. The spot in question is my friend Robynne's dining room. (I apologize for torturing all of you who have not had the pleasure of eating there.) The home that she shares with her husband, Chuck, and their adorable pets, Lola and Cheddar, has been the site of many a legendary meal. Receiving an invitation to one of their feasts is like opening the wrapper of a chocolate bar and discovering one of Willy Wonka's coveted golden tickets tucked inside.
In addition to the fact that Robynne and Chuck are among my dearest friends and truly wonderful human beings, here's what else you need to know about them: Rob is one of the best home cooks I've ever met (to say nothing of her credentials as a professional pastry chef, caterer, culinary professor, and food writer/editor—we met while working at Gourmet years ago). Chuck used to work as a mixologist/bartender/wine guru for restaurants like Prune and Savoy until he left the hospitality field to do Internet graphic design, and he's also a talented visual artist. (He is, however, a Mets fan, proving that nobody's perfect.)
Individually, they are both amazing, but together, they are even greater than the sum of their parts. The consummate hosts, they ply their guests with a steady flow of sparkling wine, cocktails, ice-cold beer, elegant reds, and a range of post-prandial libations, all while serving up some of the tastiest food around. The perfectionist in me gets slightly intimidated by the thought of throwing a dinner party, but Rob and Chuck make it look easy. You know the type—those handsome couples you see in food magazines who pull off the most elaborate multi-course meals without even breaking a sweat. (If I didn't love the two of them so much, I might want to strangle them with kitchen twine, but any aggressive inclinations are quickly forgotten as I take another sip of that perfectly mixed sidecar.)
Every so often (though not nearly often enough for MY gluttonous taste), Robynne—who is partly of Korean descent—goes nuts and make a full-scale Korean feast, using the recipes she learned from her mother and grandmother. Last week was one of those fortunate times—as notable as a total solar eclipse and far more enjoyable. When she emailed me about the dinner several weeks earlier, I blocked out the date on my calendar in ALL CAPS, like some Internet newbie, and dug a broad moat of free time around it to ensure that there would be no threat of any scheduling conflict. (Is it embarrassing to admit that I arrived at 5pm on the dot? Not to me. And if you've ever attended one of their gatherings, you'd understand.)
In the end, the meal did not disappoint, and after it was over, Robynne even sent me home with a goody bag filled with leftovers. Sadly, they're all gone now, devoured in a fugue state (it wasn't pretty). Now, all I have left are my photos, some wonderful memories, and an even-more powerful addiction to gochujang (Korean red-pepper paste) than I had before.
Thank you, my dear friends, for always being so funny, smart, thoughtful, kind, and generous.
 Robynne, preparing the mandoo soup (dumplings served in a broth made with chicken, mirepoix, garlic, and soy sauce).
Robynne topped the soup with toasted nori and scallions, and at the table, we all added in spoonfuls of a condiment made from gochujang, shoyu, rice vinegar, sugar, scallions, cilantro, and toasted sesame seeds, which added an incredible depth of flavor.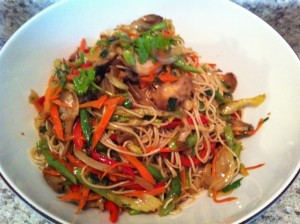 Bibum guksu (somen noodles with vegetables in a ginger-scallion sauce, served at room temperature)
Clockwise from top left: zucchini jeon (jeon refers to a range of pan-fried dishes); kanpyo jeon (kanpyo is a kind of gourd) with celery and scallions; bin dae duk (mung-bean and kimchi pancakes); and codfish jeon.
Assorted panchan and kimchi (clockwise from top left): fernbrake; seaweed; cucumber and bellflower; cucumber kimchi; watercress; and mung-bean sprouts.
A very bad photo of the delicious kalbi (marinated short ribs) that Chuck grilled in the back garden.
Dessert: Coconut mochi (with a hidden upside-down layer of pineapple), cooling on the counter near the seedlings.
The happy family (from l-r.): Cheddar, Chuck, Robynne & Lola.
Cheddar, one of the sweetest dogs in the world.